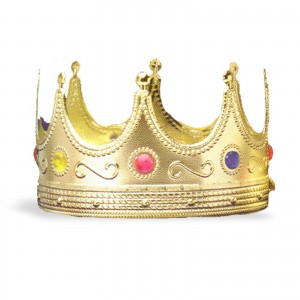 I've been feeling like the Queen of Mediocrity lately. I keep having grand plans for how to be Excellent at Everything, but then life (and watermelon heads) get in the way. I end up looking at my lists, my charts, my calendars…and reaching for my crown in defeat.
I told my husband how frustrated I am. I look around and I see success everywhere. Amazing parents who manage not only to craft and bake and build forts but actually enjoy it, too. Teachers who create these incredible units filled with fun and learning that make their students into incredible scientists or writers or whatever. Bloggers who build gigantic followings in a year with their thoughtful, witty writing.
I know what it takes to be great at each role: time, energy, dedication, passion. So why don't I have it? Or rather, why can't I maintain it?
"You're doing too much," Jonathan told me. "You have to give yourself a break."
A break? Who has time for a break? A break is why I'm wearing this Crown of Mediocrity! I cried. And what is it I'm supposed to give up, exactly?
He sighed. I examined the jewels in my crown. They were made of glass. Stupid jewels. Stupid crown.
"I heard this thing on NPR back in January," he began carefully.
This time I sighed. Really? You're going to quote NPR at me? I thought. But I wisely kept my mouth shut and listened.
"You're not taking into account the setbacks that are going to happen. If you just know that some days you won't work out because you're sick. Or you won't make the best lesson for your class because you're busy with homework. Or you won't feel like painting with the boys one day. If you accept those setbacks, but you try again the next day, maybe that is how you can reach your goals."
Hmm. I twirled the crown around in my thoughts. I am sick of being mediocre. But I decided he and whoever it was on NPR and Scarlett O'Hara were right: Tomorrow is another day.
More importantly, small steps will eventually get me there, wherever There turns out to be.
I don't like to do anything unless I'm pretty sure I can do it well, but the reality of parenthood for me is that I don't want to give up anything. I want to have a career and a hobby and be a supermom, all at the same time. I want to have time for my family and friends, and time alone, too.
So I can give up most of those goals and just focus on one, or I can take small steps in all of them and see where I end up.
On the days when I feel like I'm standing still, I can try again tomorrow. Or after nap. Or next week.
So I'm tossing away my Crown of Mediocrity in search of a Superstar Cape. It just may take me a million small steps to find it.
Starting with one post, one cookie-making mess, one great lesson, one date night, one tough workout, one phone call.
A million small steps. It feels hard. It feels far away. Yes, there will be more setbacks.
But that Cape is going to be mine.