We packed everything we needed for a week into one car and drove off. I'd spent the previous two days zipping around making lists, staging items, getting everyone to choose their clothes and toys and books and get them packed already.
When we got to the ferry terminal right on schedule, I breathed a sigh of relief. Until they announced that the ferry would be leaving 90 minutes late. That left us about three hours to kill with two boys who had just napped and were raring to go. I don't like it when things mess with my plans, but the top goal on vacation was to relax and let go of as much of this year's stress as I could. So I took a deep breath, and headed down to the beach with my guys.
We spent the time throwing stones into the water and having snack and smiling in the sunshine. It was an auspicious beginning.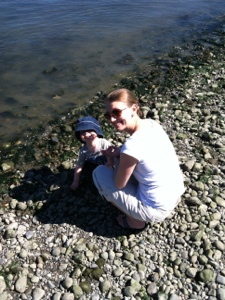 —————
I tried to stretch my legs out fully in bed, but couldn't quite. Ugh, these cats. Why must they always try to sleep in bed with me?
Wait a minute.
We weren't at home. We were in a cabin on Orcas Island. What the hell was in bed with me??
I blinked in the semi-darkness. It was a cat. What the…?
I moved the covers and the cat jumped off the bed. Great. Now I'm going to have to get up and find it and get it out the door. Oh man, the boys' window is wide open. I have to close it.
Thump. WAIL.
Oh, crap. Theo must have fallen off the bed.
I went in and rescued him before he woke up his brother. I walked back into our room, where my husband was half-sitting up and saying, "Why is there a cat in our bed?"
I shut the window while comforting the toddler, and sighed. He got up and chased the cat out the door while I laid down, and the three of us fell back to sleep.
Turns out that it was a friendly cat named Willie who lives at the resort. We politely declined all his future requests to room with us.
—————
"'Scuse me, Mama, 'scuse me?"
"Yes, Theo?"
"Watch this, Mama."
He waited until my eyes were firmly upon him before squatting down. He stayed that way for two whole seconds, willing his entire little body to do what he wanted it to.
I knew what was coming: an attempt to jump that would really look like lifting up one leg and then the other.
But this time, two feet came off the ground simultaneously and landed with a triumphant thump.
"I jump!"
"You sure did, buddy! I saw it all."
(Repeat scene every five minutes for the next two days.)
——————
We sat in the darkness listening to the noises fade away as people made their way inside. Our own boys hadn't gone to sleep until it had gotten dark, a full two hours after their usual bedtime. We'd filled the last hours with skipping/throwing rocks, a bonfire, s'mores, and stories.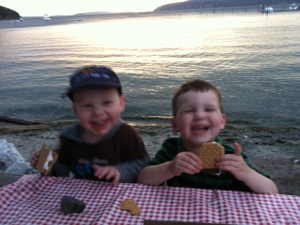 Now it was just our time. We snuggled up by the fire and looked up at the stars, both of us sighing that this was our last night away from city lights.
————————
I stood holding him, willing him to remember how to go to sleep in his own bed after a week away. He chattered away about his trains, his brother, the park, the boat. I kept my eyes closed to remind him that it was time to be quiet. The chattering stopped; his body started to relax.
Then he leaned forward and planted a noisy, wet kiss right on my lips.
And giggled.
I giggled, too, and resigned myself to the fact that even back at home, bedtime was going to be a little late.
———–
Since I pretty much took the entire summer off from the blogosphere, no one in his right mind should be giving my blog an award, but we'll give Marc from Glitnir76 the benefit of the doubt that as a parent of a toddler, there is no way he could possibly be in his right mind these days. We're sure he will be again someday. In any case, thanks for the Versatile Blogger award!  I hope to earn it soon.
I'm going to break the chain and not list rules or nominate anyone else for it, but for 7 random (and embarrassing) facts about me and a list of other fabulous blogs I read, you'll want to check out this post.
~Jessica