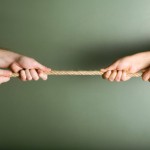 I never thought I'd be a stay-at-home mom.  In classic pre-parenthood style, I was sure I had a good idea of what life with a child would be like, and I knew that I wanted to do more than be a mother.  But I also wanted to be home, so half-time was the obvious solution, right?
Four months after working part-time, I signed the forms to go on full leave, effective four months later when the school year ended.  I stayed home for two years, having another child on the way.
And yet.
I wanted more.  Every time I got down on my hands and knees to sweep the crumbs from under the table, I felt my IQ dropping 5 points.  I muttered angrily to myself that I couldn't believe I earned two degrees in order to clean up after people all day.
At the same time, I didn't know how I could possibly take on anything more than raising these two Raslers.  I already felt ridiculously busy.  This blog, as longtime readers can tell, typically gets written in the wee hours of the morning because I simply don't have time during the day.
I read my college friends' emails and Facebook posts with envy because they also have two kids and thriving careers.  It's not like my two kids love me more than their two kids love them, I told myself.
Yet the idea of missing six or more hours of my kids' lives five days a week seemed inconceivable to me.  I think this may be a special hazard that teachers who become parents have.  I'm never surprised anymore when I see that someone who is now a stay-at-home parent was once an elementary or early education teacher.
Push.  Pull.
I want to be with them.  I need to get out of here.
When my school district offered me a one-day-a-week job last summer, I jumped at it.  Missing them for one day was fine.  There are six others in the week, after all.  Sebastian was ready to start preschool anyway, and Theo's toddler school is amazing.  Being a teacher again would give me just the spark I needed to feel like more than a mom.  Because that's incredibly important, isn't it?  That our kids see that we are more than caregivers, cooks, and housekeepers.  I want my boys to know that women weren't put here just to take care of them, for heaven's sake, and it's hard to do that when all I do is take care of them.
The one day has been fine, except that I miss being a homeroom teacher and having students who are mine and colleagues who remember my name.
Push.  Pull.
Now that one day of teaching has turned into an offer to do five mornings beginning this fall.  Do I take it?
Then there's the volunteer organization that raises money for the local children's hospital that I desperately want to be a part of.
Or the presidential campaign coming up that I promised myself I'd join four years ago when I was pregnant and then nursing a newborn.
More push toward fulfilling parts of myself that I've missed these past three years.
More pull back home as the boys are challenging, demanding, and growing and changing so much that I'm afraid sometimes that if I dare even to blink I will miss something.
It seems like no matter where I've looked, I find signs from the universe that the answer is always balance.
But the difference between saying that I need to find the balance and actually finding it is, as Mark Twain (sort of) said, the difference between a lightning bug and lightning.
It feels like the questions are endless:  Do I stay home curled up with a book like I want to, or accept an offer to go out with friends?  Do I worry too much about my boys, or not enough?  Do I try to be the best mother or the best teacher?  Write my blog or go to sleep?
The answer is always balance.  Always.
But the devil is in the details.
Postscript:  I started this post a few weeks ago.  Yesterday I took a deep breath and dropped off the paperwork requesting the new job.  I have half a year to gear up for it.  I hope that's enough!
Post-postscript:  Finally getting it together to join Bruna.  It's fun to read everyone's favorite posts from the week, so you may want to fly over there this weekend and make some new friends.