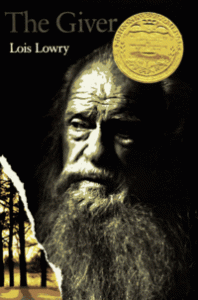 My rating: 5/5 stars
What would it be like if we could eliminate confusion, chaos, unpredictability, hunger, and even enormous snowstorms?  It would be like the world in Lois Lowry's amazing book The Giver.
I like to skip around in my Newbery list every so often because sometimes I get bogged down with the older winners (Tales from Silver Lands is taking me months to get through) and I love a newer one to zip through.  However, this is a book to read slowly, no matter how much your impulse is to breeze through it in a day with its short 160 pages.  I know I'd have been done much faster if I hadn't had a sudden impulse to ask my husband to read it with me.  We read a couple chapters together each night and talked them over as we read.  I highly recommend this because this book will fill you with questions, predictions, and opinions, and if you are like me, you'll be dying to talk them over with someone.
The community of The Giver is one in which everything runs more or less like clockwork.  Each citizen has his or her place, and it is a coming of age tale that begins just before Jonas turns 12 and is going to find out to what job he has been assigned.  (Incidentally, this is a lot like the beginning of The City of Ember, which I also love.  Go read that one, too!)
You know from the back cover that he will be chosen to work with the Giver who retains all the memories of the community, but it takes a while to get to that point.  In the meanwhile, you gradually learn more and more about Jonas, this futuristic society, and how it works.  The more you learn, the more uneasy you become.
Unfortunately, the book has a nebulous ending that leaves you wondering what exactly happened.  Fortunately, it is part of a loosely connected trilogy, so you can eventually find out.
There is so very much more I want to say about this, but I hesitate because I don't want to spoil it for those who want to read it.  I'm not including quotes, either, because my favorites would all be spoilers, too.
So you should just read it.  Really.  It will make you think and feel and wonder about society and life and the tradeoffs we make.