It's a well-known secret of happiness to think about what you love to do and then figure out a way to get someone to pay you to do it.  I always scoffed at such advice, for who would ever pay to me to lie around in my pajamas all day and read? 
But it's finally happening, my friends.  I was asked to read and review a book for you, so I dutifully stayed in my jammies for two days while on Christmas vacation and read a lovely book titled The Magic Room by Jeffrey Zaslow.  Though I'll be compensated for this review, all the opinions you are about to read are, of course, my own.
The Magic Room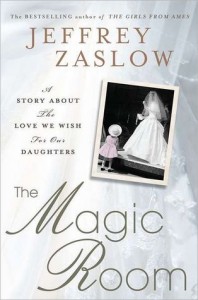 "There's something about a wedding dress…" the author's wife tells him as he tries to decide on a setting for his story.  Following her advice, he discovers a bridal shop called Becker's Bridal in the rural town of Fowler, Michigan that has been run by the Becker family for almost a century. 
The Magic Room is a converted bank vault, lined with mirrors and lighted softly, where each bride goes to see herself in the dress of her choice, infinitely magnified.
Throughout the book, Zaslow weaves the stories of various brides in with that of the Becker women, past and present.  We meet mothers and daughters, grandmothers and sisters, fathers and fiances.  We begin with each newly engaged woman's initial search for her perfect wedding dress.  We follow along as the brides-to-be reveal their hopes and heartaches, and we wind up with the wedding days.
Zaslow has set out to tell us several love stories.  But they are not the ones that leave you with the thrill of Elizabeth Bennett finally getting engaged to Mr. Darcy.  Though the love between the brides and the fiances is certainly there, the real focus is the love between the parents and their children.
Expecting to read a happy story about brides and their beautiful dresses, I was totally unprepared for the half box of tissues I would need as I read the tale of the woman who lost her mother suddenly when she was 14, or the one who lost most of her fingers in a rollover accident months before the wedding, or the parents whose 9-month-old rolled off the changing table and died.
I was also unprepared for how I would feel reading the story, having no daughter of my own.  It was hard to read scene after scene of mothers and daughters, knowing how unlikely I am to ever experience that as a parent.  I'm sure mothers of the groom have their own stories, but I have to agree with the author's wife that there is something about a wedding dress that I won't be a part of, even if my boys do choose to get married.  Fortunately, I did have it as a bride, standing on a pedestal in a similarly magic room and tearing up as my mother beamed nearby.
The way that Zaslow tells shorter pieces of each story at a time left me turning pages faster as I tried to find out what was going to happen to each woman next.  His writing is relatable, though he is occasionally prone to repeating phrases and ideas like whether her parents frequently used the words "I love you" as the bride was growing up.  He intersperses interesting information about wedding customs over time, how the dresses are made in China, and current trends like the horrifying "Trash the Dress" fad.
But the best part is just getting to know the characters.  The people in The Magic Room are real.  They are heroic not because they save a kingdom nor likeable because they fall in love with the perfect guy.  They are likeable because they are like you and me;  heroic because they overcome sadness and doubt and face the future with hope.
If you like reading blogs (and if you're here, I suspect you do), I think you'd enjoy The Magic Room.  It's the sort of book that you'd read, enjoy, and then pass along to a bride looking for her own magic room and perfect dress.
You can read more reviews and join the discussion about The Magic Room by visiting the BlogHer Book Club.